Biography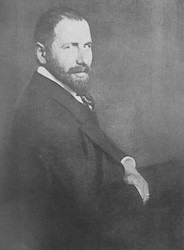 Leo Putz, c. 1907
Leo Putz was born on June 18, 1869, the son of the mayor and spa owner Franz Seraphin Karl Putz in Merano. He owed his musical talent to his mother, born Hanl, widowed Pötzelberger. Leo Putz's artistic talent appeared early. After his graduation in 1886 and against his father's wishes, Putz went to Munich and studied drawing, with his stepbrother Robert Poetzelberger, at the Academy of Fine Arts. In 1889 he was a student of historian Gabriel von Hackl. In 1891 a study trip brought the aspiring painter to Paris. There Putz studied at the Académie Julian with the Salonmaler Adolphe William Bouguereau and Benjamin Constant. In 1892 he entered military service. 
In 1893 Putz returned to Munich and studied with Paul Hoecker at the Academy of Fine Arts. Beginning in 1895 Putz worked as a freelance painter in Munich. In 1897 he became a member of the Munich Secession and until 1926 he produced numerous illustrations for the art magazine Jugend. In 1898 Putz became friends with Thomas Mann and family. 
In 1899 Putz was a co-founder of the artists' association Die Scholle, which was composed of members of the Munich Secession. Putz remained closely connected with Die Scholle until its dissolution in 1911. At the same period Putz worked as an industrial artist, designing posters for the Modern Gallery Munich. In 1901 he was a plaster teacher at the Damenakademie in Munich where he met his future wife, the painter Frieda Blell.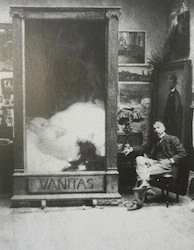 In front of 'Vanitas'
In 1905, his painting "Bacchanale" caused a scandal in the glass palace in Munich when the artwork was first accepted into the exhibition but later removed to due to alleged indecency. In 1906, Putz was appointed an extraordinary member of the Berlin Secession. In the same year he enjoyed a solo exhibition in the gallery of J. F. Brakl in Munich, which later traveled to Leipzig, Dresden, and Berlin. Two years later the writer Wilhelm Michel released a first monograph of Putz's oeuvre. In 1909 Putz acquired Bavarian citizenship and was awarded a professorship. During the summer months from 1909 to 1914 Putz stays at the Hartmannsberg Castle in the Bavarian town of Chiemgau. In 1913 he married Frieda Blell. Two years later their son Helmut was born. In 1923 Putz moved to Gauting in Oberbayern. In 1925 Leo Putz was made an honorary member of the Bavarian Academy of Fine Arts.
In 1929 through 1933 Putz and his family lived in South America. In Brazil and Argentina Putz was fascinated by the exotic nature of his new culture with its rich world of color world and his paintings reflected this influence; his color palette became stronger and brighter. In 1931 Putz lectured as a professor at the Escola Nacional de Bellas Artes in Rio de Janeiro.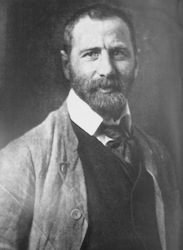 Leo Putz, c. 1910
In 1933 Putz returned to Gauting and in 1935 he presented his painting of South American in an exhibition in the Munich Kunstverein. The National Socialists classified this work as 'Entartete Kunst' (degenerate art) art and Putz was targeted for supervision by the secret state police which led to his prosecution in Germany. In 1936 he was forced to leave Germany. The last years of his artistic work were devoted to works in plaster. His plasterwork focused on the South Tyrolean landscape subjects with an emphasis on castles and palaces. On July 21, 1940, Leo Putz died after an operation in Merano.
After the beginning of a Secessionist and Post-Impressionist phase, Leo Putz turned to Expressionism. Figurative, documentary, and landscape representations determined his painterly oeuvre and Putz became greatly admired by the artists that followed. Works by Leo Putz can be found in many collections including Bavarian State Paintings in Munich, the Städtische Galerie in the Lenbachhaus in Munich, the Museum of Fine Arts in Leipzig, the Szépművészeti Múzeum in Budapest, and the Museo Nacional de Bellas Artes in Buenos Aires.